Cajun Country / New Orleans
8 Days / 7 Nights
March 25 ‐ April 1, 2023
Future Travel Credits: $40
Tour #: CJ032523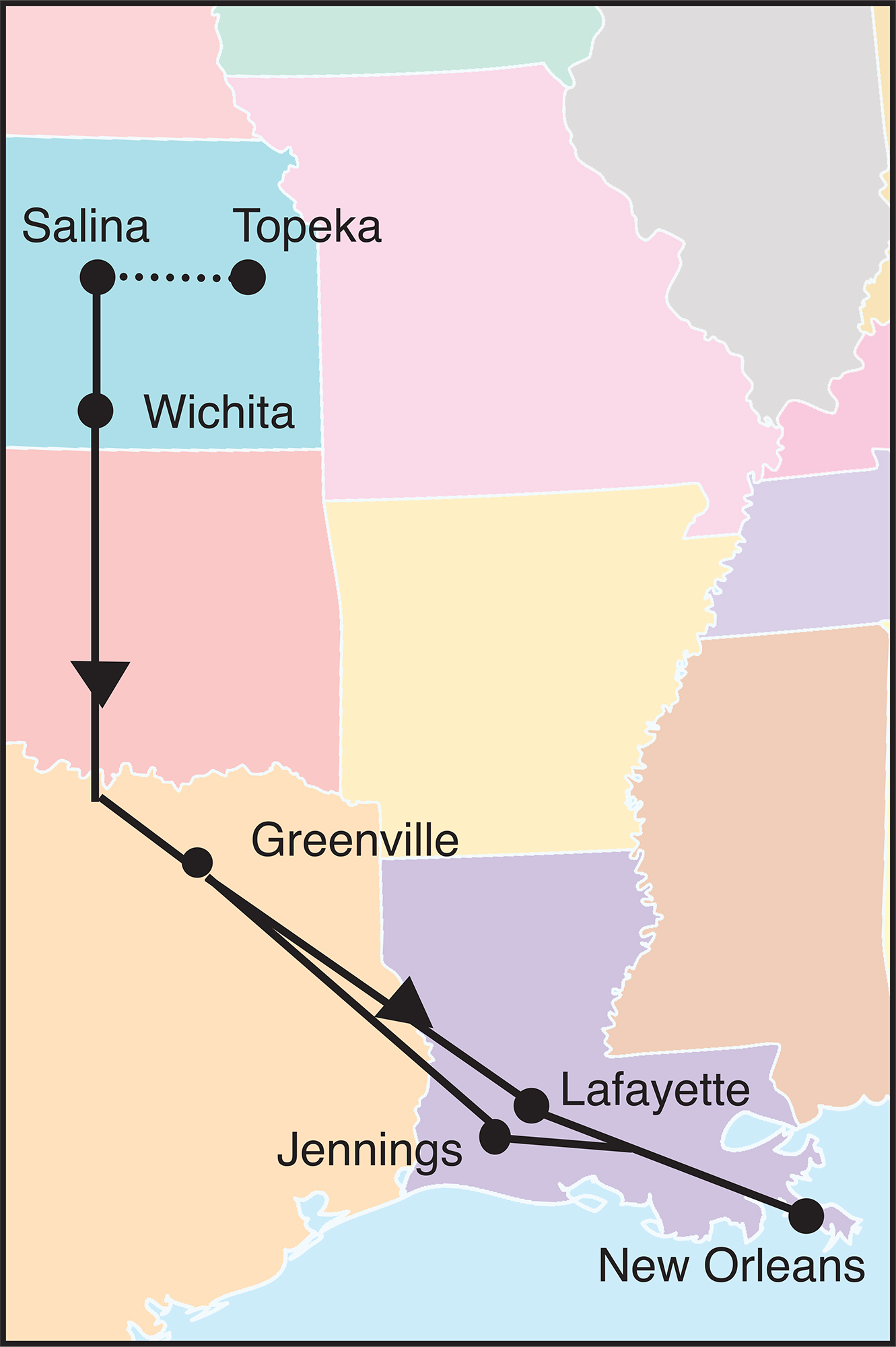 Main Attraction
Cajun customs, food and music, quaint New Orleans, and the historic river cities of the deep south are our destination.
Details
WE HIGHLY RECOMMEND TRIP CANCELLATION/ INTERRUPTION INSURANCE.
CANCELLATION POLICY:
February 7 - March 9, 2023......................... $550*
March 10 - 21, 2023................................... $935*
After March 21, 2023.............................No refund
*Plus any cancellation fees charged by our vendors.
*Plus single supplement if applicable.
Itinerary
Day 1: Cajun customs, food and music, quaint New Orleans, and the historic river cities of the deep south are our destination. After a pleasant drive through Oklahoma and northern Texas, we turn east towards Greenville where we spend the night.
2: This morning we drive through the piney woods of east­ern Texas. In the afternoon we follow the Red River Val­ley through central Louisiana. We have a tour of Natchi­toches with a knowledgeable guide, then travel on to Lafayette for the next two nights.
3: Our day begins with a swamp cruise. As we cruise under 500-year-old cypress trees we hear about how they were harvested when boats were not available many years ago and about the Spanish Moss that covers them and its many uses. Along the way we have a chance to see many species of birds, alligators and other wildlife. Next we tour Lafayette with our local guide. Some of the points of interest today are The Cathedral of St. John the Evangelist and its 450-year-old live oak tree, and the architecture of old Lafayette. We visit Martin Accordions where we see firsthand the process of making these musical instruments. We have the pleasure of enjoying Cajun music and storytelling with the Martin family. Dinner this evening is at a local restaurant where we also enjoy live Cajun music.
4: The Conrad Rice Mill is the oldest rice mill in the U.S. This morning we tour the mill and learn about rice production in Louisiana. Next we travel to Avery Island, a mysteriously beautiful place where the pepper fields grow. Here we see where the McIlhennys have been producing Tabasco hot sauce since 1868. Following lunch we continue to Morgan City and the International Petroleum Museum where we experience the life and challenges of the offshore oil industry. Later we continue to New Orleans where we spend the next two nights.
5: We start our day with a walking tour of the French Quarter where we see Jackson Square, Pirates Alley and St. Louis Cathedral. Next we board our motorcoach with our local guide for a driving tour of New Orleans. Since lunch will be later today, we stop for an iconic New Orleans treat, beignets and coffee. Our lunch is on the Steamboat Natchez as we enjoy a Harbour Jazz cruise.
6: Traveling north from New Orleans we enter plantation country. Our first stop is at Laura Plantation. The centerpiece of this plantation is its brightly colored house which stands in contrast to the stately white plantation houses in the area. Next we visit Oak Alley Plantation appropriately named for the large oak trees that line the path leading to the large antebellum home. We have time to explore the grounds, tour the home and have lunch during our visit. This afternoon we continue north to Jennings, LA. Night in Jennings.
7: This is the harvest season for crawfish and this morning we learn about Louisiana's favorite food on a local crawfish farm. We experience the habitat, harvest, calculation, distribution, and consumption of Louisiana's #1 crustacean. In the afternoon we drive north in Texas to arrive in Greenville for the night.
8: We have experienced Cajun Country and the Deep South and are on our way home. A pleasant drive through Oklahoma brings us to our departure places.
8 Days / 7 Nights
March 25 ‐ April 1, 2023
Future Travel Credits: $40
Tour #: CJ032523