Duluth & Northern Minnesota
8 Days / 7 Nights
August 14 ‐ August 21, 2022
Thank you for a great tour!
Future Travel Credits: $40
Tour #: DL081422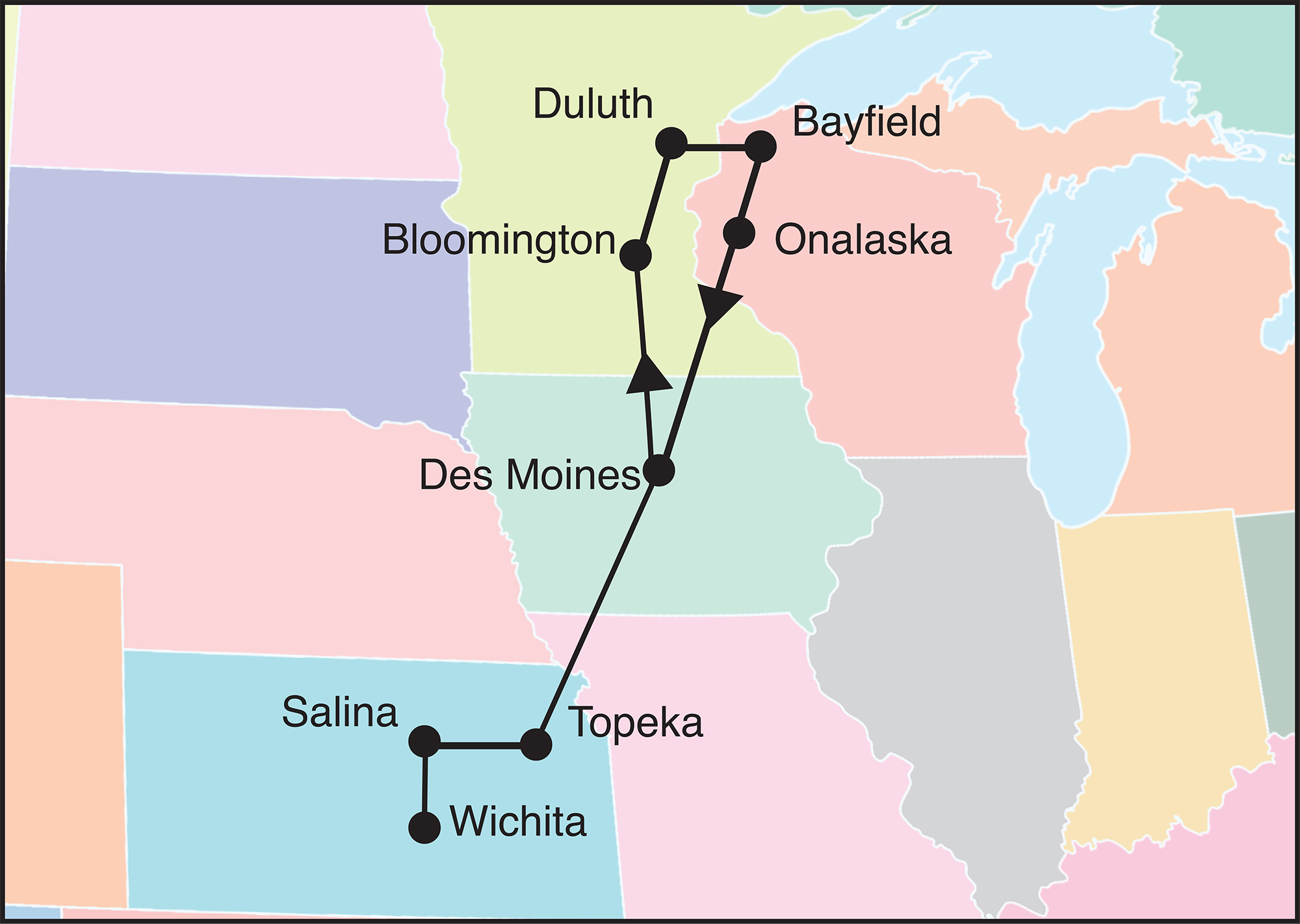 Itinerary
Day 1: Today we travel north from Kansas on our way to see new and exciting sights in Minnesota and Wisconsin along the Lake Superior shoreline. Night in Des Moines, IA.
2: Continuing north this morning we arrive in the twin cities of Minneapolis and St. Paul. This afternoon we tour with a local guide to see and hear about these sister cities that grew up on either side of the Mississippi River. Later, we have easy access to the Mall of America which is across the street from our hotel. Night in Bloomington.
3: Once again we head the motorcoach north as we travel to Duluth, one of the largest inland seaports in the world. Our first stop in Duluth is the Heritage and Arts Center where exhibits tell us the story of early Duluth. Next we visit the Great Lakes Aquarium which explores the marine life associated with Lake Superior. Our hotel is located on Canal Park which allows for leisurely strolls along the lake shore and easy viewing of vessels as they pass under the Aerial Lift Bridge. Next two nights in Duluth.
4: We start the day with a local guide showing us all that Duluth has to offer. By mid-morning we are traveling along the north shore of Lake Superior toward Beaver Bay and Split Rock Lighthouse where we take a guided tour of this magnificent lighthouse that sits on a 130' cliff and is almost 200' above the shoreline. Later we enjoy a cruise on Lake Superior.
5: After arriving in Bayfield we take a ferry to Madeline Island, the largest of the Apostle Islands. A local guide joins us as we tour the island visiting the village of LaPointe, Madeline Island Historical Museum, Catholic Mission Cemetery and Woods Hall Craft Shop. Lunch is included on the island. Later, after taking the ferry back our guide gives us a tour of Bayfield. Night in Ashland, WI.
6: Today we travel south through Wisconsin. Lunch is included before we cross the Mississippi River into the town of Wabasha. We visit the National Eagle Center which is dedicated to educating the public about these magnificent raptors. A short drive takes us to Kellogg, MN, and LARK Toys one of the largest independent specialty toy stores in the country. Voted "Best Toy Store in Minnesota", highlights include: hand-carved wooden carousel to ride, LARK-made wooden toys, games and puzzles, and much more. Later we travel to Onalaska, WI, for the night.
7. This morning we travel south to Prairie Du Chien where we visit Villa Louis, the 19th-century home of the Dousman family who made their fortune in the fur trade. We visit the mansion complex as well as the restored grounds and gardens and the Fur Trade Museum. Lunch is included today before we drive across Iowa for night in Ames.
8: As we travel back to Kansas we have time to reflect on the beauty of Lake Superior and the Mississippi River.
8 Days / 7 Nights
August 14 ‐ August 21, 2022
Thank you for a great tour!
Future Travel Credits: $40
Tour #: DL081422