Scenic Colorado Railroads
8 Days / 7 Nights
September 17 ‐ September 24, 2023
Future Travel Credits: $40
Tour #: CR091723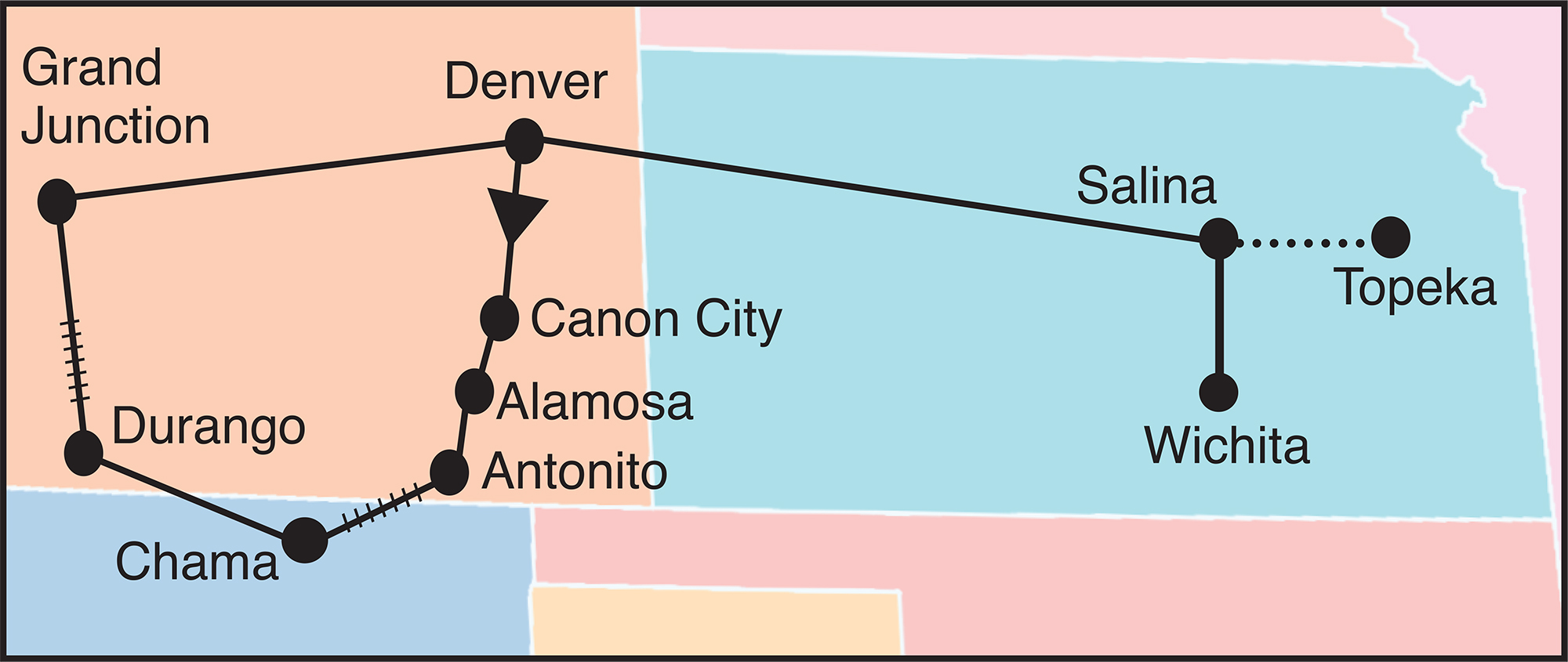 Main Attraction
Featuring: Five trains in eight days!
Details
WE HIGHLY RECOMMEND TRIP CANCELLATION/INTERRUPTION INSURANCE

CANCELLATION PENALTY:
August 16 - September 7, 2023......…$400*
September 8-13, 2023………...….....….$975*
After September 13, 2023.........No Refund
*Plus Any cancellation fees charged by our vendors
*Plus single supplement if applicable

Due to the historical nature of the equipment used, some of the trains are not handicap accessible.
Itinerary
Day 1: There are enjoyable days ahead featuring five railroad rides in scenic Colorado. The drive is pleasant through western Kansas to reach Denver, CO, for night.
2: We are on our way to board the Georgetown Loop Railroad. We ride the 1920's steam-powered train over the reconstructed tracks through silver mining country. This afternoon we head to Canon City for night. (altitude 5,332')
3: This morning we board the Royal Gorge Route Railroad for a 24-mile journey following the Arkansas River and Royal Gorge. Enjoy a dramatic view of the Royal Gorge Bridge as we relax in climate-controlled rail cars. This afternoon we continue to Alamosa for the night. (7,500')
4: Our ride today is on a narrow gauge steam train, the Cumbres and Toltec Scenic Railroad. Spiked in 1880, the line was built to serve the rich mining camps of the San Juan Mountains. A delicious lunch is served at noon. The line climbs forested mountainsides and rolls through the wild Toltec Gorge of the Los Pinas River. After disembarking at Cumbres Pass we drive to Durango. Next two nights in Durango. (6,500')
5: Today is full of scenery as we travel southwest to Mesa Verde National Park. A step-on guide joins us for our tour through the park. Mesa Verde is one of the nation's major archeological preserves. It consists of more than 4,000 ruin sites, which include 600 cliff dwellings. Archeologists have stabilized only a few of the ruins.
6: We board our fourth train for a ride on the Durango and Silverton Narrow Gauge Railroad. (9,300') The line carried $300 million worth of gold and silver in the late 1800's. Our route, inaccessible by car, follows the River of Lost Souls Canyon. We disembark at Silverton, where prospectors swarmed 100 years ago. Night in Grand Junction.
7: This morning we board Am­­trak's famous California Zephyr to ride through the heart of the Rockies, bound for Den­ver. We cross the Continental Di­vide as we travel through six-mile Moffat Tunnel. Night in Denver.
8: We are on our way home today after five spectacular train rides through the mountains of Colorado. After a pleasant interstate ride, we are home.
8 Days / 7 Nights
September 17 ‐ September 24, 2023
Future Travel Credits: $40
Tour #: CR091723