New England Fall Foliage
14 Days / 13 Nights
October 3 ‐ October 16, 2022
Future Travel Credits: $70
Tour #: NE100322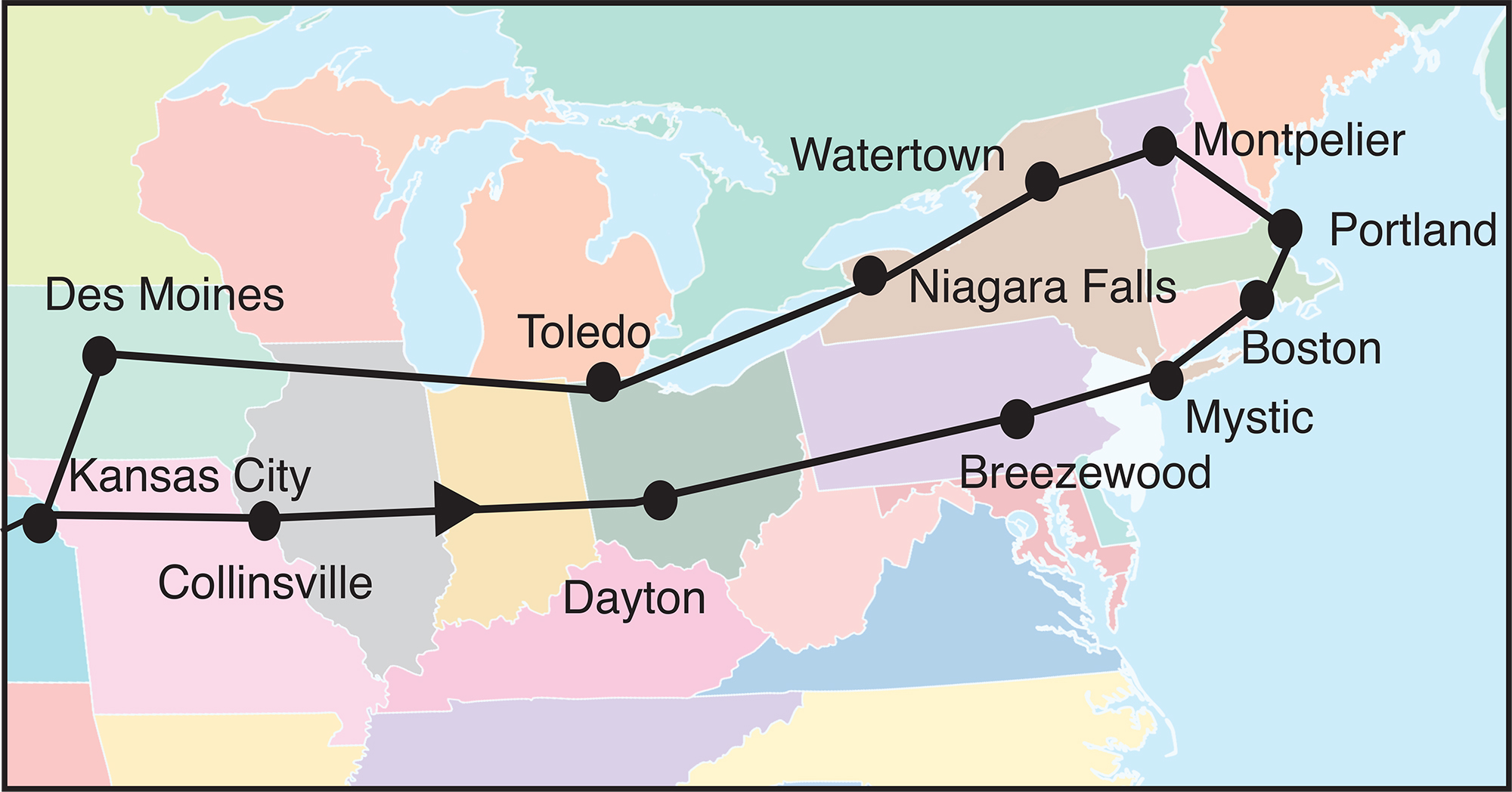 Itinerary
Day 1: Colorful New England is our destination as we seek the fall colors. After a ride through Kansas and Missouri we arrive in Collinsville, IL, for night.
2: Our trip today takes us through fertile farm lands of Illinois and Indiana. A stop at the Indianapolis Speedway allows us to visit the famous 2.5 mile oval track as well as their Hall of Fame Museum. We continue into Ohio where we overnight in Dayton.
3: This afternoon we visit the Flight 93 Memorial near Shanksville. This memorial is located where Flight 93 crashed on September 11, 2001. We continue to scenic central Pennsylvania. Night in Breezewood.
4: Today we continue our drive east traveling through Pennsylvania and through a corner of New York state before we drive along the Connecticut coast to overnight in Mystic.
5: We start our day with a visit to Mystic Seaport. Visiting its historic houses, shops and trade buildings gives us a better understanding of life in a 19th-century seaport village. Next we travel through the state of Rhode Island to get to Plymouth, MA, where we visit Plymouth Rock. Later we travel to Boston for the next two nights.
6: Today we spend a day rich in American history. Following the Freedom Trail, we'll see such sights as Boston Common, Beacon Hill, and the Old North Church. In the afternoon we cross the Charles River to see the storied battlefields of Lex­ing­ton and Concord.
7: This is our day to visit some of the quaint villages of coastal Maine. A local guide joins us for a tour of Kennebunkport and Portland, including a stop at the Portland Head Light Lighthouse. Today we enjoy a traditional New England lobster meal. Night in Portland.
8: A short drive across the southern tip of Maine brings us into New Hampshire where we anticipate beautiful fall colors. A drive along the scenic Kancamagus Pass brings us into the heart of the White Mountains. A ride on the Cannon Mountain Aerial Tramway allows us a panoramic view of the mountains and valleys in the heart of New Hampshire. Later we travel into Vermont to Montpelier for the next two nights.
9: This is our day to enjoy the fall colors as we visit sites in and around Montpelier. We begin the day with a visit to Hope Cemetery which is filled with tombstones elaborately sculpted from granite quarried in the area. Next we visit Rock of Ages, one of the local quarries. Later a visit to a local maple sugar farm helps us understand how the tree sap is collected and turned into syrup and other maple treats. This afternoon we drive a short distance to Waterbury where we visit Cold Hollow Cider Mill. Next we take a factory tour at Ben and Jerry's ice cream and have an opportunity to sample their flavor of the day.
10: Our travel today takes us around the southern tip of Lake Champlain and into New York state. Soon after we cross the state line we are in the Adirondack Mountains and more opportunity to see fall color. We stop in Lake Placid, host of the 1980 Winter Olympics. This afternoon we continue through the Adirondacks to overnight in Watertown.
11: Today we are on our way across northern New York headed for Niagara Falls. A mid-afternoon arrival allows us free time for viewing the falls. Night in Niagara Falls.
12: Today begins with a ride to the base of Niagara Falls on the Maid of the Mist. A pleasant drive along Lake Erie occupies our afternoon before we arrive in Toledo, OH, for night.
13: Our way leads steadily home. The farm lands of central Illinois give way to Iowa farmlands. Night in Des Moines.
14: This is our last day with a chance to reflect on a beautiful trip before we reach our destination in central Kansas.
14 Days / 13 Nights
October 3 ‐ October 16, 2022
Future Travel Credits: $70
Tour #: NE100322