Fall in the Smokies
8 Days / 7 Nights
October 21 ‐ October 28, 2023
Future Travel Credits: $40
Tour #: FS102123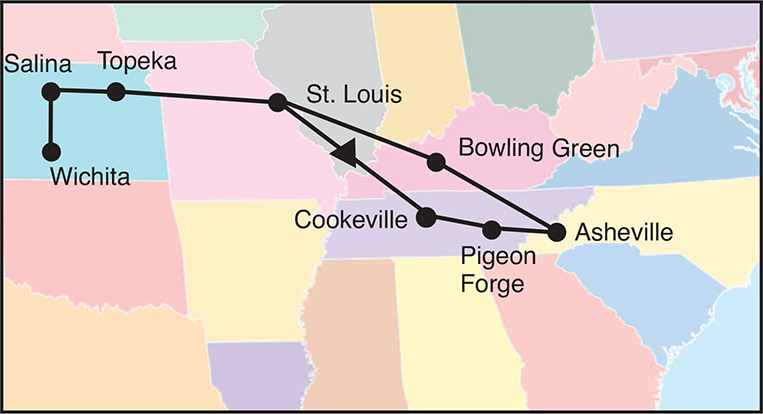 Main Attraction
Enjoy the Great Smoky and Cumberland Mountains in their fall grandeur!
Details
$1919 - Double (per person)
$2444 - Single
Itinerary
Day 1: We are on our way to experience the Great Smoky and Cumberland Mountains in their fall grandeur. After an enjoyable drive, we overnight in St. Charles, MO.
2: This morning we travel through southeastern Illinois to Paducah, KY, on the banks of the Mississippi River. Following lunch we tour with a local guide who tells about the history of the city of Paducah. The tour also includes time to view the murals on the floodwalls in downtown Paducah. Later we continue east to Cookeville, TN, for the night.
3: Our drive east this morning will have us to Pigeon Forge by noon. This afternoon we tour with a local guide who shows us the "Peaceful Side" of the Smokies. Stops on our tour include Wears Valley Ranch and Harper Brothers General Store as well as a drive on the Foothills Parkway. Dinner this evening is included and we have the opportunity to enjoy music and storytelling by some local musicians. Next two nights in Pigeon Forge.
4: Our local guide takes us on a tour of the East Tennessee back roads this morning. Stops will include the Dolly Parton statue in Sevierville and the Bush Beans Museum and Store. Following lunch at Bush Beans our guide takes us on a tour in the Great Smoky Mountain National Park. Following dinner in Pigeon Forge we enjoy the music and entertainment at the Comedy Barn Theater.
5: Today we travel from Pigeon Forge to Asheville, NC. Built by the grandson of Cornelius Vanderbilt, the Biltmore Estate has 250 rooms and is surrounded by 8,000 acres of land. We visit the mansion with an audio guide to enjoy and understand this 19th-century treasure. Night in Asheville.
6: Our drive this morning takes us just north of Knoxville to the Museum of Appalachia near Clinton, TN. The village-farm complex of the museum includes structures from the Civil War and Native American artifacts. The Appalachian Hall of Fame on the grounds pays tribute to the people of Appalachia and includes artifacts and examples of early folk art. Lunch is included at the museum. This afternoon we travel north into Kentucky to take in the natural beauty of Cumberland Falls State Park before continuing to Bowling Green for the night.
7: This morning we visit the National Corvette Museum in Bowling Green, home to the Chevrolet Corvette assembly plant. Lunch today is at the famous Moonlite Bar-B-Q in Owensboro. Next we visit the International Bluegrass Music Museum. The museum is home to exhibits and galleries documenting the origins and practitioners of bluegrass music. This afternoon we drive through southern Indiana and across Illinois for night in Fairview Heights.
8: Nine states in fall color in eight days is a delight you will not soon forget. A pleasant ride brings us to central Kansas.
8 Days / 7 Nights
October 21 ‐ October 28, 2023
Future Travel Credits: $40
Tour #: FS102123