Christmas in Texas
6 Days / 5 Nights
December 6 ‐ December 11, 2023
Future Travel Credits: $30
Tour #: CT120623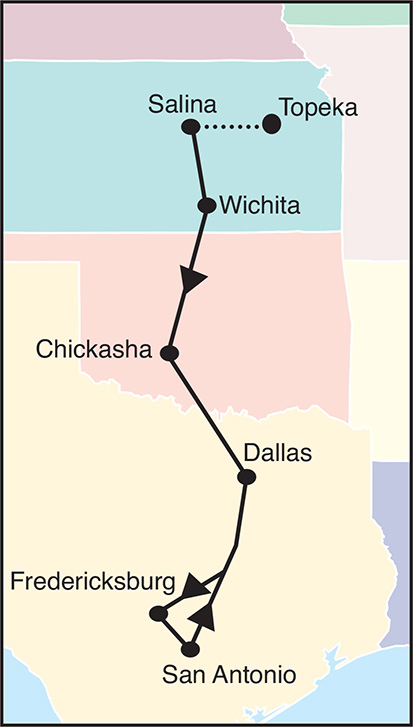 Details
$1499 - Double (per person)
$1874 - Single
Itinerary
Day 1: Heading south out of Kansas brings us to Oklahoma City by mid-day. Here we visit the Myriad Gardens and Crystal Bridge which are decorated in their holiday finest. Later we drive on to Chickasha where a community effort has helped to put on a dazzling light display in Shannon Springs Park. The Chickasha Festival of Lights has been recognized as one of the top ten holiday light shows in the nation and features over 3.5 million twinkling lights. Night in Chickasha.
2: Our first stop in the state of Texas is at the Fort Worth Stockyards. A short tour gives us a feel for the days when the Stockyards were the last major stop along the Chisholm Trail to rest and purchase supplies before continuing north. There will be time to look around before we continue on to Temple for the night.
3: Much of the fertile hill country of Texas was settled by German farmers. The German influence is still quite evident in Fredericksburg, considered one of the most attractive small towns in Texas. We arrive in time to enjoy lunch in a local restaurant followed by a short time to browse along the restored main street. Admiral Chester W. Nimitz was from Fredericksburg and so it is fitting that the National Museum of the Pacific War is located here. After visiting the museum we drive to San Antonio where we spend two nights in our hotel located on the city's famous River Walk.
4: Today a local guide gives us a tour of San Antonio including the Alamo, SAS Shoe Factory Store, and Market Square famously described as the largest Mexican market outside of Mexico. Later a boat cruise on the San Antonio River takes us along the River Walk which is decorated for the season.
5: This morning we depart San Antonio and are headed north to the Dallas metroplex. After checking into our hotel in one of Dallas' northern suburbs we are headed to the Prestonwood Baptist Church in Plano. Following an included dinner buffet we enjoy the church's production of "The Gift of Christmas".
6: We return today through Oklahoma to central Kansas remembering the wonderful things we have experienced on this Christmas in Texas tour.
6 Days / 5 Nights
December 6 ‐ December 11, 2023
Future Travel Credits: $30
Tour #: CT120623