Black Hills / North Dakota
8 Days / 7 Nights
July 18 ‐ July 25, 2023
Future Travel Credits: $40
Tour #: BH071823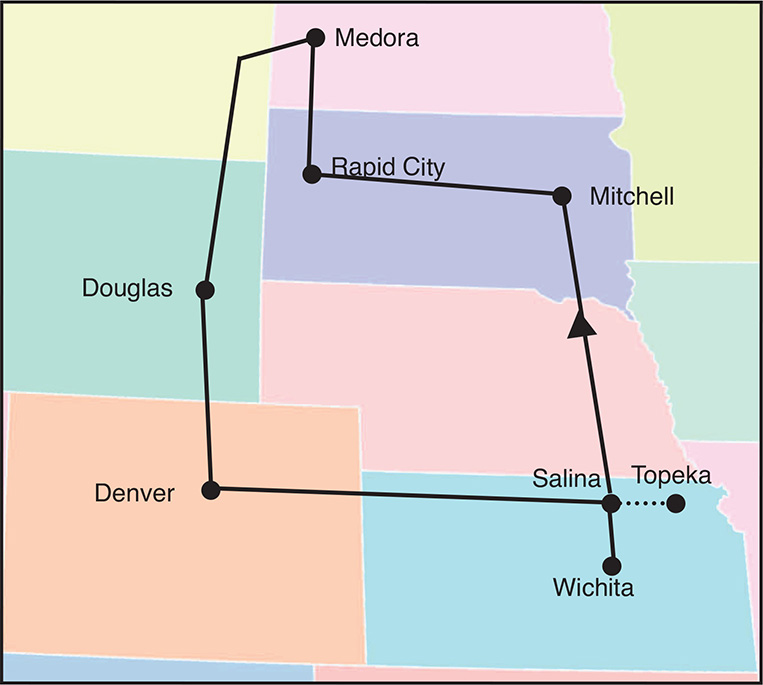 Details
$2039 - Double (per person)
$2564 - Single
Itinerary
Day 1: With South and North Dakota as our destination we begin our adventure by traveling through Nebraska into South Dakota. On arrival in Mitchell we visit the World's Only Corn Palace. Portions of the exterior and interior of the building are covered with murals made from ears of corn. Night in Mitchell.
2: Traveling further west into South Dakota we come to Badlands National Park. After time at the visitor center a local guide joins us for a tour of the park. Not far from Badlands National Park we arrive in Wall, SD, best known as the home of Wall Drug Store. The store became famous in 1936 when its owners, knowing travelers going through the dusty prairie would be thirsty, put up signs along the highway advertising free ice water. We continue on to Rapid City where we spend the next three nights. Dinner this evening is included at our hotel with local Native American entertainment.
3: Our day begins with a visit to Bear Country USA, a drive through park which features a variety of North American Wildlife. Elk, wolves, Rocky Mountain goats, bighorn sheep and buffalo roam freely in their native habitat. The park is also home to one of the largest privately owned collections of black bears. Our local guide travels with us to Hill City whose first settlers were miners arriving in 1876. This afternoon we drive to Deadwood which is full of reminders of its lively past as a gold-rush boomtown. It was a haven to gamblers and gunfighters alike. While in Deadwood we tour Mt. Moriah and the Boot Hill Cemetery. Dinner is included in Deadwood before we return to Rapid City for the night.
4: This morning our local guide rides with us as we travel south to Custer State Park. Once in the park we board Jeeps to tour the buffalo herds. A visit to the State Game Lodge allows us time for lunch on our own before boarding our motorcoach to visit Mt. Rushmore. At Mt. Rushmore we have a great view of the sculpted heads of George Washington, Thomas Jefferson, Theodore Roosevelt and Abraham Lincoln. Next we travel to Crazy Horse to view the ongoing progress of the sculpture of Crazy Horse. After viewing a film and exhibits at the visitor center, dinner is included at Crazy Horse Laughing Water Restaurant.
5: TToday we travel north to Medora, ND, the gateway city to Theodore Roosevelt National Park. This afternoon we attend the Teddy Roosevelt Show with the world's best Theodore Roosevelt reprisor, as he tells stories of his time living and ranching in the Badlands. Dinner this evening is a Pitch Fork Fondue where steaks are skewered on pitchforks and fried in hot oil. Next we attend the "Medora Musical" a Broadway class musical variety show at the 2,750-seat Burning Hills Amphitheater. Night in Medora.
6: Before departing the area we visit Theodore Roosevelt National Park and then begin our drive south into Wyoming. On our arrival into Douglas dinner is included. Night in Douglas.
7: We are on our way to Cheyenne for an exciting afternoon at the Cheyenne Rodeo, the "Daddy of 'em All". Night in Denver, CO.
8: We have enjoyed many spectacular sights and reflect on these as our motorcoach takes us back home to Kansas.
8 Days / 7 Nights
July 18 ‐ July 25, 2023
Future Travel Credits: $40
Tour #: BH071823